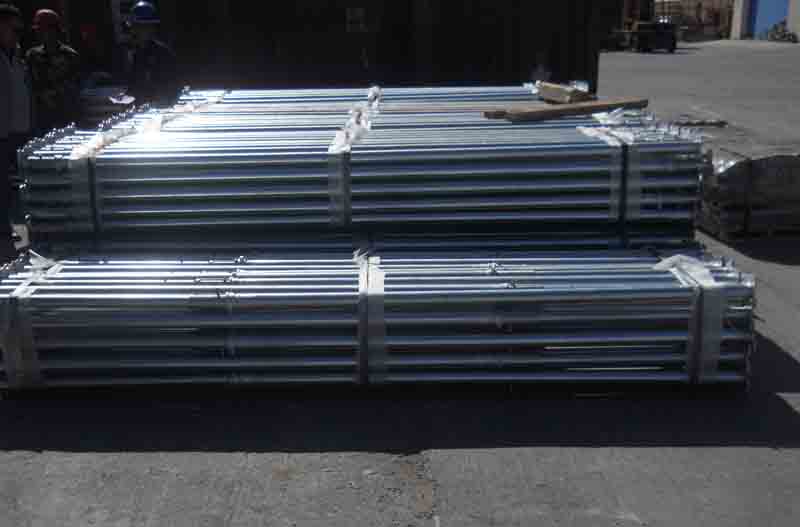 if you need Scaffolding Prop,Steel support,Steel shore prop,Adjustable scaffolding prop,please contact us
Description
An adjustable scaffolding prop consists of internal tube, external tube, prop nut, base plate and top plate.
Adjustable scaffolding prop can be adjusted to any length within its range which is convenient for using.Steel support
With its simple structure, adjustable scaffolding prop is easy to assemble and dismantle which can help to save your time, energy,and cost.
Adjustable scaffolding prop is for supporting concrete slab, beam, timber and formwork which is strong and reliable for interior building construction.
Application: support equipment in construction, mining, tunnel, bridge.
Package: 50pcs/pallet.
Scaffolding prop parts
Product Name
Materials
size
Inner Tube
Q345
48.6±0.2*L *2.3±0.2
Outer Tube
Q345
60.5±0.2*L *2.3±0.2
Prop Sleeve
Q235
Φ60.2±0.2×L195mm±0.1×t3.2(±0.2)
Prop Nut
GCD450
Inner diam
Support Pin
Q235
Φ11.5±0.2×L95mm±0.1
Base
Q235
140×140×5.5t
Type
Outer Tube(mm)
Inner tube(mm)
adjustable length(mm)
Weight (kg)
From
To
SPS30
800
800
800
1500
7
V0
1200
1000
1200
2000
9
V1
1700
1800
1800
3200
11
V2
1700
2000
2000
3400
12
V3
1700
2400
2400
3700
13
V4
1700
2600
2600
4000
14
V5
2200
3000
4000
5000
17
V6
3200
3000
4600
6000
19
SS1
3200
3000
3300
6000
19
V7
3200
4000-4600
5100
6900
24