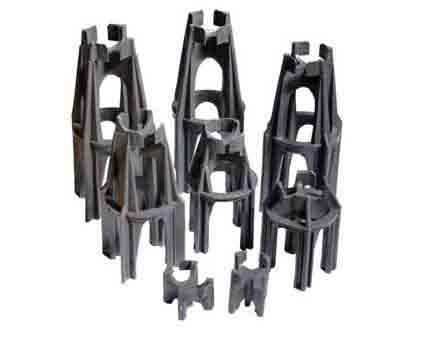 We mainly produce:pipe support stand,round pipe support,vertical pipe support,adjustable height pipe support,galvanized pipe support.
Product name:HY rebar support(upper)
HY has the four separated legs and opened-inner body structure,which improve concrete flow during concrete forming process.
Its clip type design for the top maximizes the maintaining ability.
It has various ranges form 70-200 mm.
Size
| | | | |
| --- | --- | --- | --- |
| Product Code | Height(mm) | Bar Dia(mm) | Quantities/Bag |
| HY-70 | 70 | 10-20 | 300 |
| HY-75 | 75 | 10-20 | 300 |
| HY-80 | 80 | 10-20 | 300 |
| HY-85 | 85 | 10-20 | 300 |
| HY-90 | 90 | 10-20 | 280 |
| HY-95 | 95 | 10-20 | 250 |
| HY-100 | 100 | 10-20 | 250 |
| HY-105 | 105 | 10-20 | 220 |
| HY-110 | 110 | 10-20 | 220 |
| HY-120 | 120 | 10-20 | 180 |
| HY-125 | 125 | 10-20 | 150 |
| HY-130 | 130 | 10-20 | 150 |
| HY-135 | 135 | 10-20 | 150 |
| HY-140 | 140 | 10-20 | 140 |
| HY-145 | 145 | 10-20 | 110 |
| HY-150 | 150 | 10-20 | 110 |
| HY-155 | 155 | 10-20 | 100 |
| HY-160 | 160 | 10-20 | 100 |
| HY-167 | 167 | 10-20 | 70 |
| HY-170 | 170 | 10-20 | 70 |
| HY-180 | 180 | 10-20 | 70 |
| HY-190 | 190 | 10-20 | 60 |
| HY-200 | 200 | 10-20 | 60 |