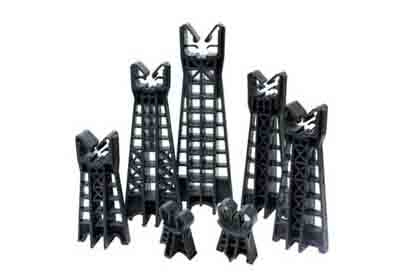 Our main products:CRH Rebar Support,formwork parts,formwork props scaffold,formwork shoring props,fromwork prop scaffold,please contact us.
Product Name: CRH rebar support(upper)
The top part of the CRH has a unique design to improve garabbing powder and make installation easier.
You can experience maximum strength with our specially enhanced law material.
It has various ranges from 75 to 180 mm.
Size
Product code
Height(mm)
Bar Dia(mm)
Quantities/Bag
lower
CRH-25
25
10-13
1000
CRH-30
30
10-13
1200
upper
CRH-75
75
10-13
500
CRH-85
85
10-13
500
CRH-90
90
10-13
450
CRH-95
95
10-13
400
CRH-100
100
10-13
350
CRH-107
107
10-13
300
CRH-120
120
10-13
300
CRH-140
140
10-13
250
CRH-150
150
10-13
200
CRH-160
160
10-13
180
CRH-170
170
10-13
120
CRH-180
180
10-13
100